Private Lessons Teacher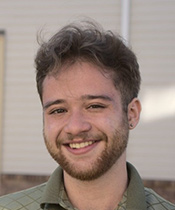 « Back To Results
Session Rate:
$ 30.00 per 30-minute session
Biography:
Isaak is a lifelong pianist, having experience with classical, jazz, and popular music styles. In addition to his time spent with traditional acoustic pianos, Isaak has experience with synthesizers, electric pianos & organs, and various MIDI instruments. Isaak is an avid tutor of music theory, seeing it as foundational knowledge for building competency and confidence as a musician. Isaak hopes to build a well-rounded understanding of music that will enable his students to achieve any of their musical goals.

Isaak's musical interests have followed him throughout life, broadening and expanding over the years. As a primary- and secondary-student, he picked up trombone, and later tuba, performing all three instruments in ensembles ranging from marching band, to jazz band, to show choir band, and more. After graduating from high school, Isaak received a scholarship to continue his education at Colorado College in Colorado Springs. While there, he studied classical piano under Grammy-nominated Steinway Artist Susan Grace, and jazz piano under Steve Barta, another Grammy nominee who has performed with the likes of Al Jarreau, B.B. King, and Paulihno da Costa. There, he also played trombone in concert band, and briefly was a member of concert choir (until COVID-19 came along). Isaak double majored in Music and German, and graduated magnum cum laude in Spring '21, receiving distinction in both of his departments. His studies took him to Germany, where he studied the life of J.S. Bach and visited the cities and churches in which Bach lived and worked throughout his life. As a student, Isaak was also a host for the Sounds of Colorado College (SOCC) radio program, feeding his love for digging into popular music history and making playlists. As with his musical interests, studying just one language was not enough, and Isaak received a scholarship to spend a summer studying Turkish in Azerbaijan—since then, adding Turkish and Azeri music to his list of interests.

Isaak currently works at Schmitt Music as the lesson program coordinator and as a musical instrument sales associate.
Minimum Age:
Isaak has requested a minimum age of 8 years old.
Disclaimer: Information displayed on Schmittlessons.com (Site) is provided by the music instructors (Teachers). Schmitt Music is not responsible for the Teacher content posted on the Site.