Private Lessons Teacher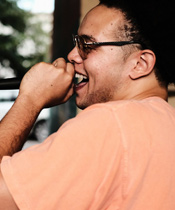 « Back To Results
Lesson Registration fee is $ 30.00.

Session Rate:
$ 30.00 per 30-minute session
Biography:
Isaiah tailors his lessons toward each students strengths and interests. He loves to keep the lessons exciting, memorable and educational.

Isaiah has had a lifetime of experience playing several instruments. He began taking lessons on the piano at Schmitt when he was three years old. He has been performing on cello, drums, bass guitar, guitar and vocals from a young age. He went to Edina High School and graduated from Duquesne University with a Bachelors Degree in Sound Recording. Throughout his entire college experience in Pittsburgh, he taught piano, drums, cello and home recording at the university facilities and in student homes.

Performing live is one of Isaiahs passion, utilizing the keyboard on stage and the organ in churches. He performs with his five piece band under the stage name Isaiah Small and has opened up for Grammy award winning acts like Lupe Fiasco and The Internet. He has had some of his best experiences touring throughout New York and Philadelphia with the band Jack Swing.

Parents remark about the amazing level of patience and skill Isaiah provides for his students. He plays a hand drum for his piano, guitar, and bass students to show them how to perform in a group setting and uses other innovative teaching techniques.
Disclaimer: Information displayed on Schmittmusic.com (Site) is provided by the music instructors (Teachers). Schmitt Music is not responsible for the Teacher content posted on the Site.