Private Lessons Teacher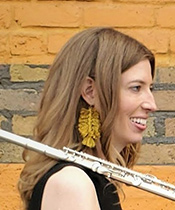 « Back To Results
Tara Meade
Location:
Brooklyn Center
Lesson Registration fee is $ 30.00.

Session Rate:
$ 32.00 per 30-minute session
Biography:
Tara Meade has been teaching private flute lessons for over 10 years. She joins the Schmitt Music staff in 2017. Additionally, Ms. Meade is adjunct professor of flute at Luther College and College of St. Benedict/St. John's University. She formerly taught Flute Techniques at the University of Northern Iowa, and began her teaching career as an elementary and middle school band director in southeast Iowa.

Tara's teaching style includes an emphasis tone production, so that students may discover their strongest flute sound and express their musical voice. Her students develop fundamentals through the study of scales and etudes appropriate to their ability level. Tara aims to cultivate her students' individuality by involving them in the repertoire selection process, and by exploring each flutist's unique talents and interests, which may include improvisation, jazz, theory, composing, extended techniques, and more!

Tara holds a Bachelor of Arts degree in Music Education from Luther College and a Master of Music degree in Flute Performance from the University of Northern Iowa. She has toured with ensembles to Austria, Brazil, China, and Japan, and was twice named a winner of the NFA Jazz Flute Big Band competition. Tara is a member of the National Flute Association and the Upper Midwest Flute Association.
Disclaimer: Information displayed on Schmittmusic.com (Site) is provided by the music instructors (Teachers). Schmitt Music is not responsible for the Teacher content posted on the Site.