Private Lessons Teacher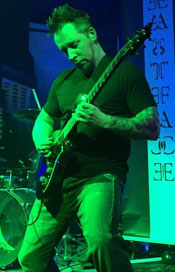 « Back To Results
Brandon Wells
Lessons:
Electric Guitar, Classical Guitar, Acoustic Guitar, Bass Guitar
Location:
Brooklyn Center
Lesson Registration fee is $ 30.00.

Session Rate:
$ 26.30 per 30-minute session
Biography:
Brandon has over thirty years of experience playing guitar and bass. He has studied guitar and piano with various well-known instructors including Scott Fraser, Shulamit Maneev, and Jeffrey Van. His experience includes performing in several local bands and opening for well known national acts also writing for movies, television and commercials. Brandon writes music for and performs with his current band. His composing skills range from full orchestra classical scores to jazz, metal, country and rock. Brandon approaches teaching with patience, dedication, flexibility, and a passion for music which he uses to motivate the same in his students He teaches all styles- rock, classical, jazz, metal, blues, country, folk, praise and worship, and pop as well as just a basic approach that is applicable for any style of music. Music theory, note reading, music interpretation, composition, music appreciation and music therapy are all a part of his teaching program, which gives his students the tools they need to play guitar, learn the music they love and express their creativity. Brandon has taught a variety of age groups from ages 3 to 70 and special needs including ADHD, autism, Asperger's syndrome, cerebral palsy and down syndrome . He has been teaching private lessons since 1997, taught at Champlin School of Music from 1999-2001, and has been with Schmitt Music since 2001 and Pitchfever Music Academy since 2007.
Disclaimer: Information displayed on Schmittmusic.com (Site) is provided by the music instructors (Teachers). Schmitt Music is not responsible for the Teacher content posted on the Site.