Private Lessons Teacher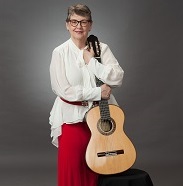 « Back To Results
Char Claassen
Lessons:
Classical Guitar, Acoustic Guitar
Session Rate:
$ 25.00 per 30-minute session
Biography:
Currently teaching in-person only.

After opening a guitar studio in Beatrice and teaching there for three years, Char moved to Omaha. She began teaching at Schmitt Music in October of 1994. Following nine years of private lessons in classical guitar and teaching for 25 years, Char is well qualified to teach classical and acoustic guitar to students of all ages and skill levels. Recently, she has added the ukulele to her teaching repertoire. Her style of teaching the music and traditions of the classical and acoustic guitars allows her students to progress at their own pace. An understanding of the fundamentals of the guitar and music are the foundation for increasingly more advanced learning. In addition to studio learning, students present a recital each February for family and friends. Students have the opportunity to share the music and skills they have been studying, while parents and families enjoy hearing and seeing what the students have learned.

Char encourages anyone interested in classical or acoustic guitar to experience the joy of learning to play the instrument that has brought pleasure and inspiration to musicians for hundreds of years.
Minimum Age:
Char has requested a minimum age of 6 years old.
Disclaimer: Information displayed on Schmittlessons.com (Site) is provided by the music instructors (Teachers). Schmitt Music is not responsible for the Teacher content posted on the Site.