Private Lessons Teacher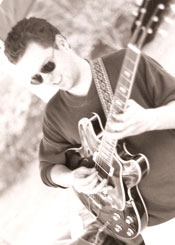 « Back To Results
Tom Reichert
Lessons:
Electric Guitar, Acoustic Guitar, Bass Guitar, Voice, Music Theory, Composition, Songwriting, Arranging
Session Rate:
$ 30.00 per 30-minute session
Biography:
Tom has been composing, performing and teaching music for over 25 years. He has a bachelors degree in performance and composition from the prestigious contemporary music school Berklee College of Music, and has performed with many acclaimed national and local musicians over the years. Tom teaches all levels of guitar and bass students, and teaches vocal lessons as well.

Tom recently wrote and published a guitar method book entitled Hands-On 6. Toms guitar method is a culmination of his many years of teaching. The book is a labor of love, and took over five years to complete. The Hands-On 6 method not only teaches students to read music combining all six strings, but to also play chord progressions using rhythms that are played in every style and genre of music. As students learn to read and play, there are also exercises and worksheets to help students learn the process of composing their own music. The unique aspect of Toms method that sets Hands-On 6 apart from other method books on the market is the fact that all the compositions written for the book are original. Most books have familiar songs and melodies that make it easier to allow the ear to guide you through the music. Toms method ensures that the student must read the music and not play by ear. This method not only results in the ability to read music by sight, but it also develops the students ear while teaching them to play the instrument and write their own original compositions. Tom caters his teaching style towards his students needs. He is an enthusiastic teacher, who ensures that lessons are fun while still maintaining structure and discipline.
Minimum Age:
Tom has requested a minimum age of 8 years old.
Disclaimer: Information displayed on Schmittlessons.com (Site) is provided by the music instructors (Teachers). Schmitt Music is not responsible for the Teacher content posted on the Site.